October 14, 2017
Win/Win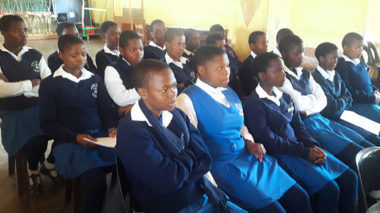 Adolescent girls who are out of school are at the highest risk for contracting HIV. Now, 20 girls who could not afford school fees will attend Emagobodvo High for the next three years free of charge.
In return for their schooling, Young Heroes supplied the high school with equipment it badly needed, including sewing machines, laptops, printers, projectors, stoves, laboratory equipment, a refrigerator, water tanks, desks and chairs. The hand-over event – which was attended by Young Heroes representatives, community elders, the school committee, and parents and guardians of the children – took place on June 16th, the International Day of the African Child.
This win/win arrangement was made possible by the support of the American people through the United States Government's President's Emergency Plan for HIV/AIDS Relief (PEPFAR) and the United States Agency for International Development (USAID) through Pact.
Save